Simply to ensure that you don't miss this remarkable tribute to Polly Higgins."We must all now be pollinators – "Polly-nators" – of an idea whose time has come…" !!!! What an example of a servant leader. Peter
(Desplácese hacia abajo para leer en español)
You are receiving this e-letter as a signed up donor to the Earth Protectors Trust Fund at www.stopECOCIDE.earth (formerly Mission LifeForce) or because you joined our mailing list, either there or via our law information portal at www.eradicatingecocide.com
Dear friend
Friday 3rd May was the most wonderful funeral Polly Higgins could have wished for, full of tears, inspiration, laughter, music, organic whisky… and taking over the public highway!  The church was so packed that speakers had to be placed outside as well…  
Looking back at the colourful procession wending its way along the lane from the ceremony to the meadow burial ground it must be said that we created a whole new and uplifting meaning for the phrase "funeral march"…  Polly would have thoroughly approved!  She now rests among trees overlooking the beautiful Slad Valley and her favourite pub, the Woolpack, which has probably never handed out so many whiskies in one afternoon.  
A few pics are included below (courtesy of Polly's unofficial-official-photographer Ruth Davey) and you can download the order of ceremony HERE and the eulogies HERE.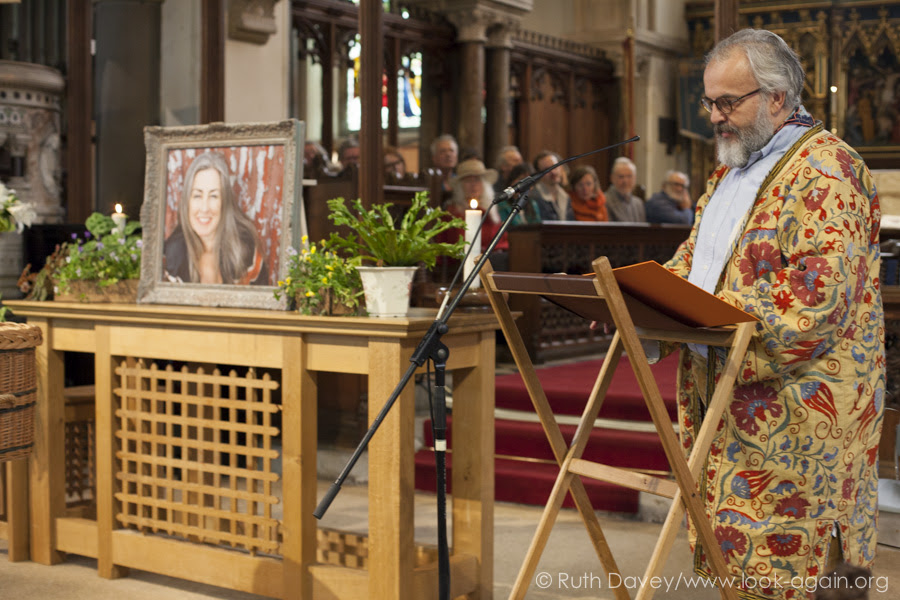 Now all we need to do is sign up those MILLION EARTH PROTECTORS that Polly wanted to see…
JUST IMAGINE:
With a million Earth Protectors standing with them, the climate-vulnerable states brave enough to take forward ecocide law will feel safe, and visible, and supported – states like Vanuatu, whose Ambassador John Licht, in a deeply moving gesture of acknowledgment, presented a traditional burial mat upon which Polly's willow casket was ceremonially laid in the Earth.

This visibility and support is crucially important to prevent intervention by vested interests.  And with a growing movement of Earth Protectors, our legal team will be resourced to provide the expert assistance Polly spent her last years laying the essential groundwork for.
Since Polly herself has expanded into other dimensions (which feels like the most accurate way to describe it!) a most remarkable thing has been happening.  People with essential skills have been stepping up to form part of a rapidly expanding team – so that both the legal and the campaign side of Polly's work can now be taken forward with confidence.  
Key strategic meetings on the legal and diplomatic side took place in London yesterday (see below) and two of the team shall be attending a Pacific Roundtable scheduled this month.  We expect to return to the International Criminal Court's annual Assembly of States Parties this year with a higher profile than ever.  
The beginnings of an easy 5-step "campaign package" are under way as well, to help people to speak and inform others.  We realise how important it is that people are able to communicate easily about ecocide law and have ready answers to frequently asked questions.
We must all now be pollinators – "Polly-nators" – of an idea whose time has come… (thank you Rosalinda Namises from Namibia and Jehanne Mehta from Stroud for seeding that lovely concept into the burial ceremony!)
For those who have not had a chance to see it yet, Polly's scheduled talk for the Findhorn Climate Change & Consciousness conference on 25th April was replaced by this tribute and honouring of her work by Jojo Mehta (now communications director for the campaign), with a wonderful no-holds-barred introduction from Gail Bradbrook, co-founder of Extinction Rebellion.  
And as a timely reminder of why a CRIMINAL law of ecocide is so crucial – click on the above image to see a report just out that shows banks have actually been increasing their support of aggressive fossil fuel expansion since the Paris agreement.  No amount of climate negotiating is able to deal with this.  Only when ecocidal activity becomes criminal will the money have to go elsewhere.
Indigenous voices at the ICC
In January of this year, Polly tasked a small team with documenting the Indigenous people of the Amazon standing up to defend the forest – with a view to highlighting in a short film the impact of ecocide and the requirement for law to criminalise it.  It is intended to be shown at this year's International Criminal Court Assembly in December and will also be publicly released.  The team has returned with some incredible footage and is now hoping to raise the remaining funds required to produce the finished film.  If this sounds like something you would like to support, please click HERE or on the above image.
The party Polly requested in her will is scheduled for Sunday 30th June at a venue close to Stroud yet to be confirmed. There will be tributes of all kinds, much music and dancing, shared food, fancy dress (of course)… and a special message from Polly herself, written for the occasion some years ago and just discovered this week.  All shall be welcome.  Thank you all for being with us on the continuing journey towards justice and a legal duty of care for this beautiful Earth.
*** Polly's Team ***
if you're new to this list you can read the previous newsletter HERE.
PS are you an Earth Protector in search of a home?
Jojo Mehta, communications director for the campaign, is now so busy that she is in need of a live-in housekeeper/childminder. Her lively, politically active extended household (4 adults, 2 children, 2 guinea pigs and a small friendly cat) can offer a single room rent-free including local organic food, with extra paid hours by arrangement.  
This is an opportunity to live close to Stroud (a very beautiful part of the world) and right in the heart of our work.  Relaxed, practical temperament and own transport/driving licence essential!  Contact isla@ecologicaldefenceintegrity.com.
Una despedida excepcional
Querida amiga, querido amigo
El viernes 3 de mayo fue el funeral más maravilloso que Polly Higgins pudo haber deseado. Lleno de lágrimas, inspiración, risas, música, whisky ecológico … ¡y nos adueñamos de la vía pública! La iglesia estaba tan llena que los oradores tuvieron que salirse fuera …
 Mirando hacia atrás, hacia la colorida procesión que se abría camino a lo largo del recorrido desde la ceremonia hasta el cementerio de la pradera, podemos decir que dimos un significado completamente nuevo e inspirador a la frase "marcha fúnebre" … ¡Polly lo habría aprobado completamente! Ahora descansa entre los árboles que dominan el hermoso valle de Slad y su pub favorito, el Woolpack, que probablemente nunca haya repartido tantos whiskies en una tarde.
A continuación, se incluyen algunas fotografías (cortesía de Ruth Davey, la fotógrafa oficial de Polly) y se puede descargar la transmisión de la ceremonia AQUÍ y los elogios AQUÍ.

A partir de ahora, todo lo que necesitamos hacer es registrar a esos MILLONES DE PROTECTORES DE LA TIERRA que Polly quería ver …
IMAGINA:
Con un millón de Protectores de la Tierra, los estados vulnerables al clima lo suficientemente valientes como para llevar adelante la ley del ecocidio, se sentirán seguros, visibles y apoyados. Estados como Vanuatu, cuyo Embajador John Licht, en un gesto de reconocimiento profundamente conmovedor, ofrendó un lecho fúnebre tradicional sobre el cual se colocó ceremoniosamente el cofre de sauce de Polly en la tierra.
Esta visibilidad y apoyo tiene una importancia crucial para prevenir la intervención de intereses creados. Y con un creciente movimiento de Protectores de la Tierra, nuestro equipo legal contará con los recursos necesarios para brindar la asistencia adecuada a cuyas bases Polly dedicó sus últimos años.
"El equipo de Polly" se expande
Desde que Polly se ha expandido en otras dimensiones (¡lo que parece ser la forma más precisa de describirlo!), algo destacable ha estado sucediendo. Algunas personas con habilidades esenciales han pasado a formar parte de un equipo que se está expandiendo rápidamente, de modo que tanto el aspecto legal como el de la campaña del trabajo de Polly ahora pueden llevarse a cabo con confianza.
Las reuniones estratégicas claves en el marco legal y diplomático tuvieron lugar ayer en Londres (ver más abajo), y dos miembros del equipo asistirán a una mesa redonda del Pacífico programada para este mes. Este año esperamos regresar a la Asamblea anual de Estados Parte de la Corte Penal Internacional con un posicionamiento más cualificado que nunca.

También están en marcha los comienzos de un sencillo "paquete de campaña" de 5 pasos para ayudar a las personas a hablar e informar a otros. Nos damos cuenta de lo importante que es que las personas puedan comunicarse fácilmente sobre la ley del ecocidio y tengan respuestas listas para las preguntas más frecuentes.
Todos debemos ser polinizadores – "Polly-nators" – de una idea cuyo tiempo ha llegado … (¡Gracias Rosalinda Namises de Namibia y Jehanne Mehta de Stroud por sembrar ese hermoso concepto en la ceremonia del entierro!)
Para aquellos que aún no han tenido la oportunidad de verlo, la charla de Polly programada para la conferencia "Findhorn Climate Change & Consciousness" del 25 de abril, fue reemplazada por este tributo y homenaje a su trabajo por Jojo Mehta (ahora Directora de Comunicaciones de la campaña), con una maravillosa introducción sin restricciones de Gail Bradbrook, cofundadora de "Extinction Rebellion."
Un recordatorio de por qué…
Y como un recordatorio oportuno de por qué una ley penal del ecocidio es tan crucial: haga clic en la imagen de arriba para ver un informe que muestra que los bancos realmente han aumentado su apoyo a la expansión agresiva de los combustibles fósiles desde el Acuerdo de París. Ninguna cantidad de negociaciones sobre el clima es capaz de lidiar con esto. Únicamente cuando la actividad ecocida se vuelva criminal, podrá el dinero destinarse a otra parte.
Voces indígenas en la CPI
En enero de este año, Polly encargó a un pequeño equipo la tarea de documentar a los pueblos indígenas de la Amazonia para defender el bosque, con el fin de resaltar en un cortometraje el impacto del ecocidio y la necesidad de que la ley lo penalice. Está previsto que en diciembre de este año se muestre en la Asamblea de la Corte Penal Internacional y también se dará a conocer públicamente. El equipo ha regresado con algunas imágenes increíbles y ahora espera recaudar los fondos restantes necesarios para producir la película terminada. Si le gustaría apoyar esto, haga clic AQUÍ o en la imagen de arriba.
Polly en el País de las Maravillas
La fiesta que Polly solicitó en su testamento está programada para el domingo 30 de junio, en un lugar cercano a Stroud que aún no se ha confirmado. Habrá homenajes de todo tipo, mucha música y baile, comida, disfraces (por supuesto), y un mensaje especial de Polly escrito para la ocasión hace algunos años y que se acaba de descubrir esta semana. Todos serán bienvenidos.
Gracias a todos por estar con nosotros en el continuo viaje hacia la justicia y el deber legal de cuidar esta hermosa Tierra.
**** El equipo de Polly ***
Si eres nuevo en esta lista, puedes leer el boletín anterior AQUÍ.
PS ¿eres un Protector de la Tierra en busca de un hogar?
Jojo Mehta, directora de comunicaciones de la campaña, ahora está tan ocupada que necesita un ama de llaves / cuidadora. Su animada familia extendida políticamente activa (4 adultos, 2 niños, 2 cobayas y un pequeño gato simpático) puede ofrecer una habitación individual sin costo que incluya comida orgánica local, con horarios adicionales pagados según el acuerdo.
Esta es una oportunidad para vivir cerca de Stroud (una parte muy hermosa del mundo) y justo en el corazón de nuestro trabajo. ¡El temperamento relajado y práctico es esencial! – y permiso de conducir / transporte propio. Póngase en contacto con isla@ecologicaldefenceintegrity.com.