THIS ANNOUNCEMENT HAS VALUE IN ITSELF, BUT it is also a reminder that in the collaborative evolving of  CCMJ, THE LONDON GLOBAL OPEN TABLE and ICUK, the inseparable double commitment to both GOD [all Creativity for the Common Good] and NEIGHBOUR [all right relationships?] THE WHOLE AND ALL THE PARTS ARE ONE AND EXIST IN RICH  DIVERSITY. LET ALL OUR ACTIONS LIE WITHIN THAT UNDERSTANDING. Peter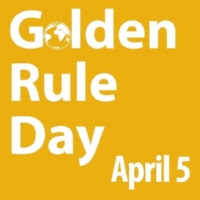 In 2011, the United Nations Secretary-General Ban Ki-Moon declared
April 5 
as 
International Golden Rule Day
. Now, organizations around the world are teaming up to remind us all that the Golden Rule still matters. Of the hundreds of versions of the Golden Rule, this one was chosen:
Treat others and the Planet as you would like to be treated. 
On
Thursday, April 5
, the world is invited to participate in a 24-hour global webcast devoted to the Golden Rule. All programming will be streamed through Facebook Live and 
The Shift Network website
. The programming, live and pre-recorded, will focus on peace, compassion, kindness, caring for our Earth, and the power of the Golden Rule to change each of us and the world. Everything will start at
10:00pm
Pacific on
April 4
— which is the evening of
April 5
in Japan and Australia — and end at
10:00pm
Pacific on
April 5
.