Ellen Brown's magnificent drive for Public Banking continues and progress is mapped out here.
Peter: ———- Forwarded message ———
From: 
Public Banking Institute
<info@publicbankinginstitute.org>
Date: Thu, 13 Dec 2018 at 20:37
Subject:
Together, we can turn austerity into abundance – from Ellen Brown, Chair
Public Banking Institute News: Dec 13, 2018
Public banks can turn austerity into prosperity
Year-end appeal from Ellen Brown, Chair of the Public Banking Institute
Pundits warn that 2019 could be the start of the next Great Recession and that environmental devastation looms on the horizon. But solutions ARE possible with adequate public funding, and this funding can be generated with a network of local and national public banks. It's not too late to turn things around, but more people need to know how, and soon. Your financial support now will help fund our 2019 Campaign for Public Banks to create the BIG PUSH we need now to get public banks established. You can sign on to support and contribute here.
The time is now to launch a National Campaign for Public Banks!
PBI's vision is to recapture the money power from the Wall Street behemoths that control our economy and return it to the people. The Public Banking Institute has been your hub for education, resources and support for public banking across the country since 2011 and the successes of the movement have grown dramatically in recent years. In 2016 we committed to a big drive that would ensure that five public banks would be well on their way to being established by 2020, and that work is now bearing fruit.
Momentum is building in the public banking movement, and 2019 promises to be another big year:
Public banks have been introduced at the federal level as a funding mechanism for the Green New Deal put forward by Alexandria Ocasio-Cortez (D-NY), which is now supported by 31 members of the House.
A ballot measure for a city-owned bank introduced by the president of the Los Angeles City Council in July won 44 percent of the vote in November indicating that round two, already in process, is likely to succeed.
The Washington State public banking caucus has 23 senate members — nearly a majority — pursuing a state-owned bank that will include cities and counties as participating members. The legislature has allocated $480,000 for a business plan needed to apply for a bank charter, due to be completed in June 2019.
Across the nation, more than 25 initiatives for public banks are actively being pursued, by progressives and conservatives; and over 60 organizations are promoting public banks.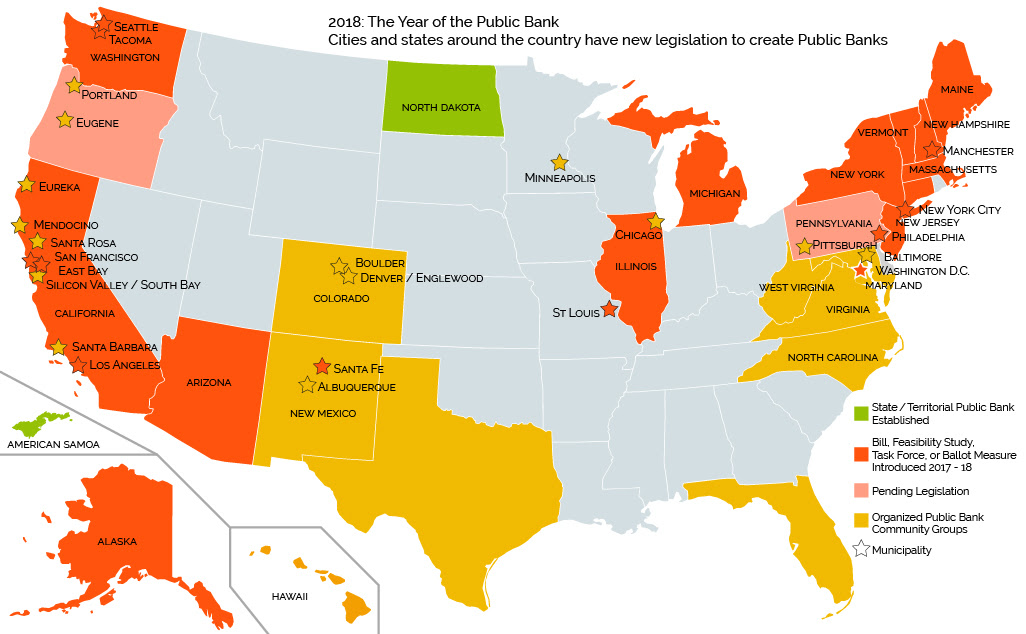 100 years is long enough
2019 is also the centennial anniversary of the Bank of North Dakota, the nation's only state-owned depository bank and a groundbreaker in showing what public banking can do for local economies. One hundred years after BND's founding, it is  time to apply the public banking model nationwide.
We have seen a new wave of millennials in action with the recent public banking movements in Los Angeles and New York. What the public doesn't see is the progress being made in less visible parts of the country. From places as unexpected as West Virginia, Connecticut, and Texas, an emerging generation of young people, newly-elected legislators, and municipal officials have contacted the Public Banking Institute wanting to know how they can create a public bank.
We want to inspire and empower this motivated generation with the vision of what can be achieved when we return the business of banking to the commons and redirect capital into local communities for public purposes.
We invite you to join us in this campaign.
The Campaign for Public Banks to launch in 2019 will help unite and align the various efforts underway across the country. This is a role the Public Banking Institute is uniquely qualified to perform. PBI is educational, nonpartisan, supportive of local citizen efforts, and will continue to bring expertise and resources to a national stage by providing spokespeople and a point of contact for news and media sources.
We will work in collaboration with other public banking organizations and related groups, align with efforts brought forward for the Green New Deal, and connect national and local legislators to the issue.
The campaign will bring public banking further into focus for writers and commentators, and raise its national visibility so it can become common knowledge and an integral part of the conversation about policy solutions for key issues (student debt, housing, environment, infrastructure). It can also help support and unite the many voices that have long been ignored and disenfranchised.
The Campaign for Public Banks is not just about saving money for local governments. It is about social and economic justice.
You can sign on to support our Campaign and contribute here with whatever level of financial support is within your means. Large or small, your gift will help us make the big push that is so critical now.
You can contact Cimbria at giving@publicbankinginstitute.org with any questions, or send a check to this address:
Public Banking Institute
19197 Golden Valley Road, No. 903
Santa Clarita, California 91387
Thank you for all the years of support. Wishing you the best of the season and an abundant 2019 — Ellen Brown for the board and staff of the Public Banking Institute
---
Coming Public Banking Events
San Francisco, CA | Dec 13, 6:00 – 7:30pm PT | Public Banking 101 at 350 Alabama St
350 Alabama Street San Francisco, CA, 94110. Public banking is where many divestment efforts converge. RE-Investment via public banking has re-emerged as an avenue to fulfill to these calls for divestment. Here in San Francisco, people are pushing for a movement to divest our city taxpayer money from Wall Street, and reinvest that money in affordable housing, green energy infrastructure, schools and more. ZERO financial background to come learn how we can take $11 BILLION of SF taxpayer money out of Wall Street and reinvest it into Our Streets. More info here. Facebook event here.
Coalition Call | Dec 14, 12:00pm ET / 9:00am PT | Public Banking monthly Coalition call: Once a month, PBI hosts an hour-long Public Banking Coalition conference call in which we introduce the concept of Public Banks, discuss current issues, and give updates on the advances being made for Public Banks all across the country. Register here (Zoom).
Cambridge, MA | Dec 14-15 | Money as a Democratic Medium conference
Harvard Law School, Wasserstein Hall, Room 2036, (Milstein East AB), 1585 Massachusetts Avenue, Cambridge, MA 02138 (at the corner of Everett Street). A conference on the democratic possibilities of money. "Those who create and issue money and credit direct the policies of government and hold in the hollow of their hands the destiny of the people." The words, attributed to a 20th century British banker, capture an emerging consensus. Money, governance, and public welfare are intimately connected in the modern world. This conference regards money as a public project. With 16 sessions and 61 speakers, it brings scholars, journalists, and policymakers into conversation about how to realize its democratic possibilities, past and present. Topics that will be covered include economic development, public banking, financialization and inequality, postal banking, a federal job guarantee, and monetary politics. More info here. Registration here (free and open to the public).Facebook event here.
San Francisco, CA | Jan 10, 6:00 – 9:00pm PT | SF Public Bank Coalition Launch
The Women's Building 3543 18th St #8, San Francisco, CA 94110. SF's Defund DAPL Coalition and SF Public Bank are joining forces to launch a SF Public Bank Coalition with speakers, music, food and community. Learn how a city-owned public bank can bring San Francisco's $11 billion budget "From Wall Street to Our Streets." Strategize in break out sessions focused on student debt, affordable housing, renewable energy and more. More info here. Facebook event here.
Please send us notice of Public Banking events in your area, and we'll help spread the word!  Email communications@publicbankinginstitute.org
---
Social Media! Social Media! Social Media!
Next call: Dec 14th:  Once a month, PBI hosts an hour-long Public Banking Coalition conference call in which we introduce the concept of Public Banks, discuss current issues, and give updates on the advances being made for Public Banks all across the country.
Calls take place at 12:00pm ET / 9:00am PT on the second Friday of each month. **Please note, we now use the Zoom app for these calls, which is like Skype.
---
This newsletter is made freely available to the public through the support of our readers. If you enjoyed reading it, please consider making a tax deductible contribution today. DONATE
---
Take Action: Why Support the Public Banking Institute?

A national movement is underway and you're invited!  There are now over 50 public banking initiatives taking place all over the country, from Maine to Hawaii and Alaska – citizens,  civic leaders  and elected officials, bankers and stakeholders from all walks of life who want to break the chain of dependence on Wall Street's unsustainable debt extraction from our public purses.
It's a strategic stand that you can take to transform our common wealth and democratic power. Use your civic power – get involved! PBI's network of experts and affiliates will help you open new doors for sustainable public finance for cities, counties and states.   
Public Banking Institute · 19197 Golden Valley Road No 903 , Santa Clarita, CA 91387, United States
This email was sent to peterchallen@googlemail.com.
You can also keep up with Public Banking Institute on Twitter or Facebook.
Created with NationBuilder, the essential toolkit for leaders.