As commercial space flight takes off in intense corporate rivalries, Matthew Fox contributes a blunt warning about submission to technology.beyond accountability for the Common Good of Gaian life.
Peter
———- Forwarded message ———
From: Daily Meditations with Matthew Fox <Team@dailymeditationswithmatthewfox.org>
Date: Tue, 13 Jul 2021 at 08:35
Subject: [DailyMeditations] Further Warnings on Technology in the Hands of Unexamined Souls
To: Peter Challen <peterchallen@gmail.com>
View this post, video, and more on our website

The Creation Spirituality Lineage Calling All Social and Environmental Activists, Mystic Explorers, Justice Makers, Cosmic Thinkers, Earth Keepers

Daily Meditations with Matthew Fox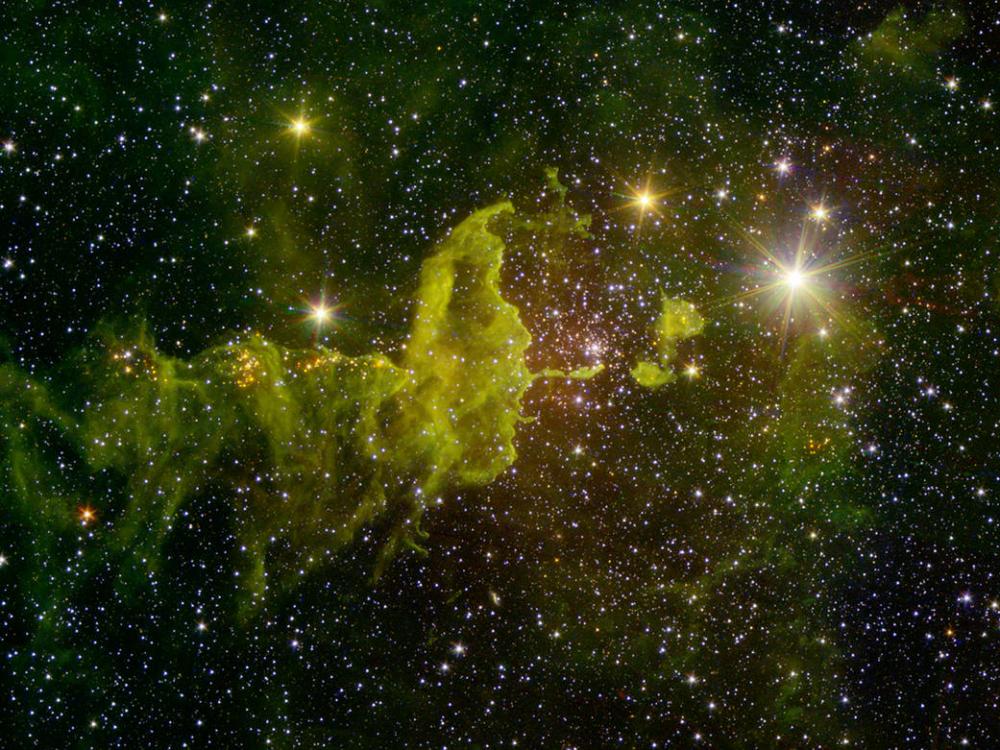 Further Warnings about Technology in the Hands of Unexamined Souls

July 13, 2021
Yesterday we cited Thomas Merton's deep concerns about our missing out on "the most important of all voyages" if technology distracts us.  This in light of the accomplishment of Richard Branson, billionaire number one's visit to outerspace (to be followed by two more billionaires shortly).

Dr. Larry Dossey raised a similar warning to Merton's 46 years later when he commented in 2014 on my book Meister Eckhart: Mystic-Warrior for Our Times: 
Whether our species has a future on Earth does not depend on the development of more gee-whiz technologies, but on whether we are willing to move into the psycho-spiritual dimension proclaimed by Meister Eckhart and elucidated by Matthew Fox in this important book.
ABC News reports on billionaire Richard Branson's trip to the edge of space in his own personal spacecraft.Dossey, like Merton and myself, finds Eckhart to be a very reliable guide into our inner psycho-spiritual selves. Technologies that are roaming outer space on our behalf or are appearing as tools in our hands must not be allowed to distract from that all-important journey. Without this journey, our inner demons can remain unattended, and all our creativity can easily go to war, death, and destruction, serving only ego power, nationalism, or other idols. With an inner journey, we might harness our creative technology to serve the earth, the children, the future, and ourselves.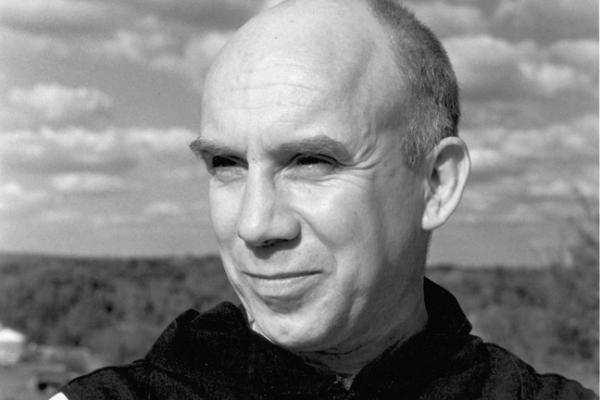 Thomas Merton. Photo by Sibylle Akers / Merton Legacy Trust 
Merton complains about the "fiery chariots" of technocracy —

Grand machines, all flame,
With supernatural wings 
. . .
He tells us he much prefers "My old chariot of broken-down rain."
Merton was also suspect of technology because, as Labrie puts it, "the right arm of technocracy is war." Merton reacted to warocracy when he wrote sarcastically:
I hear they are working on a bomb that will destroy nothing but life. Men, animals, birds, perhaps also vegetation. But it will leave buildings, factories, railways, natural resources. Only one further step, and the weapon will be one of absolute perfection. It should destroy books, works of art, musical instruments, toys, tools and gardens, but not destroy flags, weapons, gallows, electric chairs, gas chambers, instruments of torture or plenty of strait jackets in case someone should accidentally survive. Then the era of love can finally begin. Atheistic humanism can take over.
He sees insanity ruling in a purely technocratic response to life. Of course, Merton lived during the height of the Cold War and witnessed the most severe standoffs between the United States and Russia, which he referred to when writing: 

That is why we must not be deceived by the giants and by their thunderous denunciations of one another, their preparations for mutual destruction. Short clip on what "Technocracy" is, from NowThis. Originally posted on Youtube by NowThis World.
The fact that they are powerful does not mean that they are sane, and the fact that they speak with intense conviction does not mean that they speak the truth.

He mocked the technology of the ovens used in the Holocaust and composed a "Chant to be used in processions around a site with furnaces," which ends with this warning: Do not think yourself better because you burn up friends and enemies with long-range missiles without ever seeing what you have done.
Adapted from Matthew Fox, Meister Eckhart: A Mystic-Warrior for Our Times, back cover.
Adapted from Matthew Fox, A Way to God: Thomas Merton's Creation Spirituality Journey, pp. 122f.
Banner Image: Photo of the Spider Nebula. Photo taken from NASA website.

To view Matthew's video, please click the image. You will be taken to today's post on the Daily Meditations with Matthew Fox website, where you can see the meditation in a larger version and also view Comments from meditation participants and answers to questions that are posed.  In this way a kind of community is developing around the DM.  If you can't reach Matthew's video on the website, try his YouTube channel here.

Queries for Contemplation

Do you agree that gee-whiz technologies do not guarantee our future but inner work does?  And that  power does not guarantee sanity nor does intense conviction guarantee truth?  How basic is inner work and inner discovery to recovering sanity and recovering truth?

Recommended Reading 

A Way to God: Thomas Merton's Creation Spirituality Journey
In A Way to God, Fox explores Merton's pioneering work in interfaith, his essential teachings on mixing contemplation and action, and how the vision of Meister Eckhart profoundly influenced Merton in what Fox calls his Creation Spirituality journey.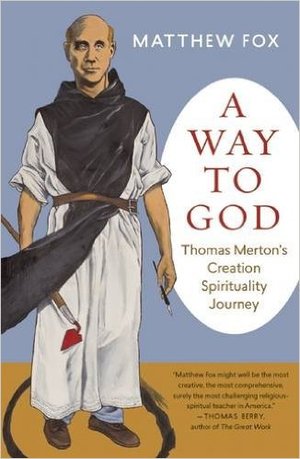 Meister Eckhart: A Mystic-Warrior For Our Time
While Matthew Fox recognizes that Eckhart has influenced everyone from Julian of Norwich to Eckhart Tolle, Karl Marx to Carl Jung, and Annie Dillard to Anne Morrow Lindbergh, he also wants to introduce Eckhart to today's activists addressing contemporary crises. Toward that end, Fox creates dialogues between Eckhart and Carl Jung, Thich Nhat Hanh, Rabbi Heschel, Black Elk, Karl Marx, Rumi, Adrienne Rich, Dorothee Soelle, David Korten, Anita Roddick, Lily Yeh, M.C. Richards, and many others.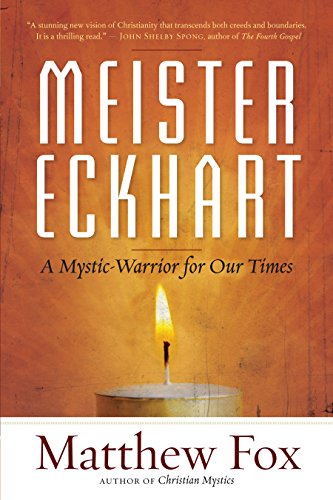 Responses are welcomed. To add your comment, please click HERE to go to our website and scroll down to the Comments field. 
Please share this post! Just click the buttons below. 

Upcoming Events
Join Matthew Fox for a thought-provoking 7-week course: Answer the Call for an Uncommon Life Through the Mystical Teachings of St. Hildegard, Tuesdays, 6/15 to 7/27. While the course has begun, registration remains open, with recordings of past classes available. Learn more HERE.





Join us for a Virtual Teach-in with Isa Gucciardi and Matthew Fox, hosted by Rev. Cameron Trimble.
August 13-14, 2021 (Fri-Sat)
Shamanism in Buddhism and Christianity
Session 1: Friday, August 13 at 4pm-6pm PT
Session 2: Saturday, August 14 at 9am-12pm PT
Session 3: Saturday, August 14 at 12:30pm-2:30pm PT 

Recorded Workshops 

Praise for
Hildegard of Bingen, A Saint for Our Times: Unleashing Her Power in the 21st Century


"Hildegard of Bingen speaks not only to universal concerns of the human condition on this planet but also to our current often destructive relationship to our planet….Although this book is quite short, it is packed full of a wealth of images, insights, ideas, and juxtapositions. Reading it a chapter a day over the space of a week left my head awhirl…" 

— Review by Kathleen D. Clark, Ph.D.
 
To assist us in getting this book to reach more people, 
please go to Amazon and leave a review!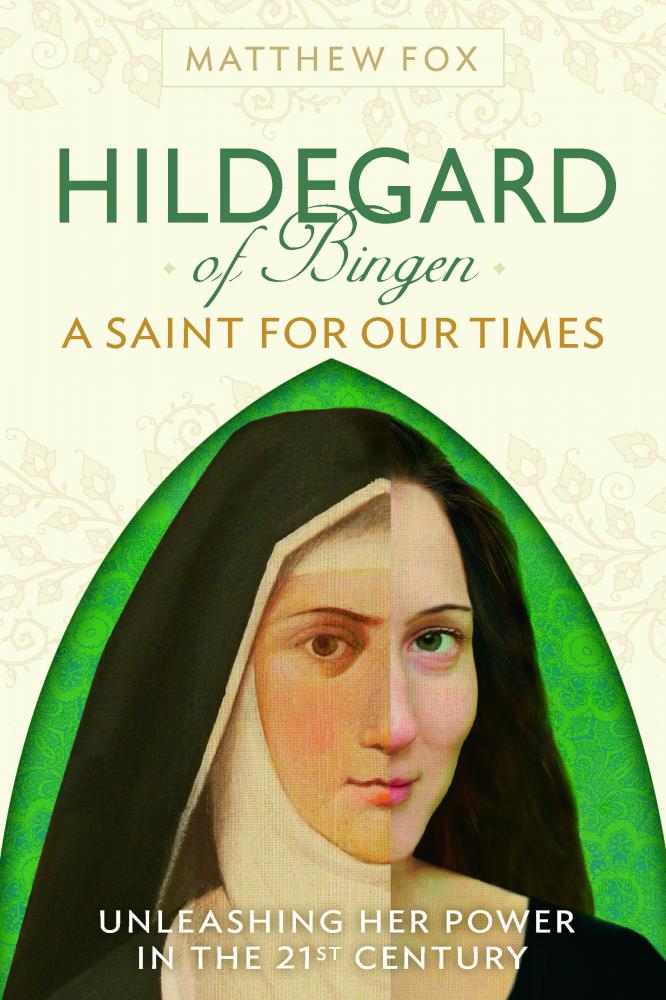 Inspired by what you're reading?
Please feel free to share your insights on Instagram or Twitter using the hashtag #RevDrMatthewFox and tag Matt with @RevDrMatthewFox

FOLLOW MATTHEW FOX:
Twitter
Instagram

Daily Meditations with Matthew Fox is made possible through the generosity of donors.
Please consider making a tax-deductible donation. Thank you!

Did you receive this email from a friend? 
You can subscribe to our daily meditations via the opt-in box on the sidebar at DailyMeditationsWithMatthewFox.org
Matthew Fox Legacy Project, PO BOX 424533, San Francisco, CA 94142, United States